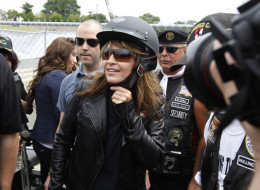 Here's one sure to make hipstercons everywhere shudder. Yesterday Sarah Palin launched her east coast bus tour by showing up for a veteran rally in Washington DC. On a motorcycle. Wearing a leather jacket and tight-ish jeans.
The conservative male within me is beaming
.
The rally was organized by Rolling Thunder, an organization comprised mostly of veterans, motorcycle enthusiasts, and patriots. The group is named after a 1965 operation against North Vietnam. Every year on Memorial Day weekend, they ride from the Pentagon to the Vietnam Memorial.
The organization, which has hundreds of chapters throughout the country, made waves in recent years by being one of only a handful of groups willing to stand up to the Westboro Baptist Church. They form a ring at a decent distance around the funeral location, and any time Westboro members try to speak, chant, yell, or spout hatred, they rev their engines to drown out the noise. Not a bad group to be associated with, no? Especially if you're looking like that.


And lest Palin be accused of pandering, her family's been involved with mechanics and machines for years (Her husband Tod a "Snowmachine racer").